---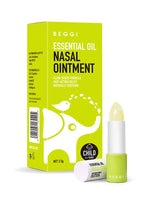 優惠價
尤加利精油
乳木果油
荷荷巴油
椰子油
瓊崖海棠油
楝樹油
茶樹精油
薄荷精油
麥盧卡蜂蜜
蜂蠟
如何使用
根據需要在孩子鼻孔下面和旁邊擦少量。
當他們呼吸時,有助於清除阻塞的鼻子和緩解呼吸困難。
全天重複幾次。
如果癥狀持續,請諮詢醫療專業人員。
警告
按指示使用。
放在幼兒拿不到的地方。
如果與任何藥物一起使用,請諮詢醫療專業人員。
Ingredients
Eucalyptus Essential Oil, Shea Butter, Jojoba Oil, Coconut Oil, Tamanu Oil, Neem Oil, Tea Tree Oil, Peppermint Oil, Manuka Honey, Beeswax
How to Use
Rub a small amount of ointment below and beside your child's nostrils as needed.
As they breath the ointment will help to clear blocked noses and ease breathing difficulties.
Repeat several time throughout the day for severe symptoms.
If symptoms persist consult a medical professional. 
Warning
Always read the label.
Use only as directed.
Keep out of reach of children.
Consult a medical professional if using in conjunction with any medications.