---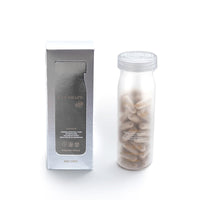 優惠價
 每個膠囊包含:
白芸豆 100mg
洋車前子粉 220mg
洋薊 30mg
格氏桿菌 10mg
乳酸雙歧桿菌 20mg

成人專用:飯前服用4粒。24小時內最多8粒。
Ingredients
Each capsule contains:
Phaseolus Vulgaris                               100mg
Plantago Ovata                                      220mg
Cynara Scolymus                                   30mg
Lactobacillus Gasseri                             10mg
Bifidobacterium Lactis                            20mg
Directions
For Adults Only: Take 4 capsules before a meal. Maximum of 8 capsules in 24 hours.
For optimal results, use Bio-E Day Shape in conjunction with regular physical activity and/or a healthy diet.
Warnings
Always read label and use only as directed.
If symptoms persist, seek the advice of a healthcare professional.