---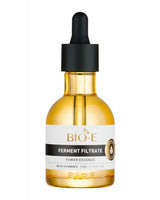 從自然生長的葡萄'Vitis vinifera'的汁液發酵而來。

帶有高濃度乳酸菌、半乳桿菌、雙歧桿菌發酵液和維他命C的精緻香味原液。

倒在手掌或化妝棉上,輕輕塗抹於臉部和頸部。
每天早晚潔面爽膚後塗抹。


Bio-E Ferment Filtrate Power Essence with Vitamin C
Obtained from the fermentation of the juice from naturally grown grape - Chardonnay 'Vitis Vinifera'.
Delicately scented lotion with a high concentration of Lactobacillus, Galactomyce, Bifidus ferment filtrates and Vitamin C, as well as a classic wine flavour.
Pour onto palm or cotton pad, gently smooth onto face and neck.
Apply every morning and night after cleansing and toning.