---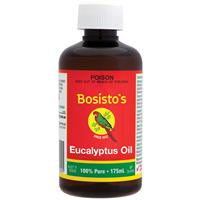 優惠價
General Information
100% pure, natural eucalyptus oil
Warnings
Caution: Always read the label. Use only as directed.
If symptoms persist, see your doctor.
Common Uses
Helps relieve the symptoms of colds and flu, children's colds
For the temporary relief of arthritic or muscular pain, strains and sprains
To help relieve the pain and itching of insect bites
Directions
Head Cold and Flu
As an inhalation to help relieve coughs and colds add 15 - 20 drops of the Oil to a bowl of steaming hot water and inhale vapour covering head with a towel.
Sprinkle a few drops on a handkerchief to make it easier to breathe.