---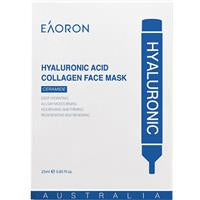 優惠價
清潔面部後,輕輕地將面膜敷在臉上,並確保所有區域都被覆蓋(避免接觸眼睛)。15到20分鐘,把面膜剝下來,把剩下的精華按摩到你的皮膚裡。
Ingredients
Purified Water, Glycerine, Phenoxyethanol, Xanthan Gum, Butylene Glycol, Sodium Hyaluronate, Ethylhexylglycerin, Sodium PCA, Saccharide Isomerate, Hydrolyzed Collagen, Lactic Acid, Citric Acid, Sodium Citrate, Chamomile Flower Extract, Resveratrol, Witch Hazel Leaf Extract, Green Tea Leaf Extract, Bilberry Fruit Extract, Dextran, Sodium Starch Octenylsuccinate, CoEnzyme Q10, Trifluoroacetyl Tripeptide-2, Heptapeptide-8, Maltodextrin, Natural Vitamin E, Silica, Soya Bean Oil.
Directions
After cleaning the face, gently apply the mask onto your face and make sure all areas are covered (avoid contact with eyes).
Leave the mask for 15 to 20 minutes.
Peel it off and massage any remaining essence into your skin.