---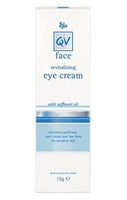 優惠價
•明顯淡化浮腫、黑眼圈和細紋。
•有效的水合物,明顯增加彈性。
•柔滑輕盈的乳霜。
•適合乾燥、敏感或正常皮膚。
•有助於減少水分進一步流失
低刺激性配方,不含香味、色素、羊毛脂和丙二醇。
每日使用,早晚潔面後使用。在眼部周圍薄薄塗抹一層,輕輕按摩至吸收。
• Visibly reduces puffiness, dark circles and fine lines.
• Effectively hydrates for visibly increased elasticity.
• Silky smooth, lightweight cream.
• Suitable for dry, sensitive or normal skin.
• Dermatologically tested and ophthalmologically approved
• Helps reduce further moisture loss
• Low-irritant formulation, free from fragrance, colour, lanolin and propylene glycol.
Directions
Use daily, in the morning and evening after cleansing. Apply a thin layer around the eye area and gently massage until absorbed.