---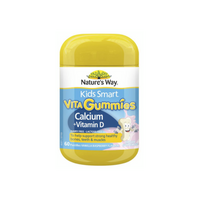 優惠價
2-8歲兒童:每天吃2粒。
9-11歲兒童:每天吃3粒。
或根據您的健康專家的建議
儲存在25°C以下
Ingredients
Each Pastille (soft gummie) contains:
Calcium (as Calcium Phosphate) 100 mg
Colecalciferol (Vitamin D3 200 IU) 5 micrograms
Contains: Gluten, sugars, soya bean products and sulfites.
Directions
Children 2-8 years: Give two pastilles per day.
Children 9-11 years: Give three pastilles per day. Or as advised by your health professional
Vitamins and minerals can only be of assistance if dietary intake is inadequate.
Protect from moisture.
Store below 25 C.
STORAGE INSTRUCTIONS
Protect from moisture, store below 25°C