---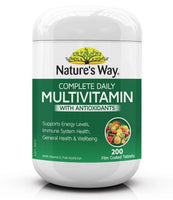 優惠價
Energy Levels: A busy lifestyle can often contribute to feeling tired & lacking energy. Nature's Way Complete Daily Multivitamin can help maintain healthy energy levels.
Immune Health: Nature's Way Complete Daily Multivitamin contains key nutrients like Vitamins C & D3 to help maintain healthy immune system function.
Everyday Health & Wellbeing: A balanced diet, and an adequate intake of vitamins and minerals, is essential for the maintenance of general wellbeing. Nature's Way Complete Daily Multivitamin contains vitamins, minerals & antioxidants to help support general health and wellbeing.
Directions
If you are pregnant or considering becoming pregnant, do not take Vitamin A supplements without consulting your doctor or pharmacist. When taken in excess of 3000 micrograms retinol equivalents, Vitamin A can cause birth defects.
Adults: Take 1 or 2 tablets daily with food.
Children 6 years and over: Take 1 tablet daily with food (if required, break the tablet in half) or as directed by your health professional.
Vitamin and mineral supplements can only be of assistance if dietary intake is inadequate.
Ingredients
Each tablet contains: Thiamine nitrate 700 micrograms equiv. to Thiamine (Vitamin B1) 567.4 micrograms, Riboflavin (Vitamin B2) 1.3 mg, Nicotinamide 16 mg, Calcium pantothenate 2.18 mg, equiv. to pantothenic acid (Vitamin B5) 2 mg, Pyridoxine hydrochloride 700 micrograms equiv. to Pyridoxine (Vitamin B6) 600 micrograms, Cyanocobalamin (Vitamin B12) 2 micrograms, Folic acid 100 micrograms, Ascorbic acid (Vitamin C) 25 mg, Colecalciferol (Vitamin D3) 7.5 micrograms (300 IU), Retinol acetate 258.7 micrograms equiv. to Vitamin A 225 micrograms RE, Iron (as Ferrous fumarate) 1.9 mg, Manganese (as Manganese sulfate monohydrate) 1 mg, Biotin 30 micrograms, dl-Alpha-Tocopheryl acetate (Vitamin E) 3 IU, Iodine (as Potassium iodide) 50 micrograms, Chromium (as Chromic chloride hexahydrate) 5 micrograms, Zinc (as Zinc oxide) 1.4 mg, Copper (as Cupric oxide) 170 micrograms, Magnesium (as Heavy magnesium oxide) 42 mg.