---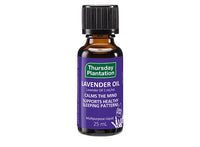 優惠價
Lavender oil is a versatile pharmaceutical grade essential oil, which can help soothe nerves and calm the mind.
Lavender Oil:
• Calms the mind
• Supports healthy sleeping patterns
• Supports healthy stress response in the body
Traditionally used in aromatherapy to:
• Relieve symptoms of stress, nervous tension, mild anxiety and excess nervous energy.
• Relieve sleeplessness and induce sleep.                                                             
Always read the label. Follow the directions for use. If symptoms persist, talk to your healthcare professional.
• 100% pure. Free from SLS, parabens, synthetics and fillers, guaranteeing an unaltered, pure oil
• Can be applied directly to the body or used in a vaporiser
• Distilled from Lavandula angustifolia flowering herb tops
Bath: To support healthy sleeping patterns, add 5 drops (1/4 mL) to bathwater. Massage: Adults only. To calm the mind, dilute 5 drops (1/4 mL) to 10 mL carrier oil. Apply to temples, forehead, back of neck, shoulders or full body and gently massgae. Vaporisation: To support healthy stress response in the body, dilute 5 drops (1/4 mL) to 10 mL in water and disperse using an oil burner or diffuser. Bites: Traditionally use in aromatherapy to relieve symptoms of insect bites and stings. Rub a few drops of oil onto affected area.
Lavender Oil 1 mL/mL