---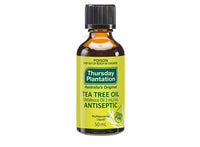 優惠價
Australia's natural antiseptic, Tea Tree Oil is distilled from specially selected Melaleuca alternifolia leaves, a plant native to the coastal regions of northern New South Wales and south eastern Queensland, Australia.
This 100% pure, 100% natural essential oil is a powerful antiseptic which inhibits a broad spectrum of bacteria and fungi and cleanses and protects skin abrasions.
• Apply to minor cuts, burns, abrasions, pimples, bites and stings
• Treats fungal infections such as athlete's foot and nail infection
• Cleaning: Kills 99.9% household germs
Always read the label and follow the directions for use. If symptoms persist, talk to your healthcare professional.